Over the past 15 years the conversations about school improvement have been changing.
Key observations about school improvement, which were not discussed at the turn of the millennium, are now clearly on the agenda.
However, there are still critical elements that are not yet part of this dialogue. This post reflects upon these important conversations.
What is being talked about
Items now on the agenda include:
The systemic nature of school systems. There is growing awareness of the interconnectedness that exists among the component parts of these complex social systems. These components need to work together if the system is to be optimised towards its aim.
Students' learning as the aim, rather than teachers' teaching. This may seem a pedantic distinction, yet it profoundly changes the emphasis in dialogue, and thereby the focus of improvement efforts: from educational policy right through to the classroom.
Our systems of school education are not meeting the needs of significant proportion of students. Not only is the system failing our more disadvantaged students, dissatisfaction is widespread and evident in the perceptions of students, teachers and families. Furthermore, in Australia at least, the performance of the education system has largely flat-lined over the past decade, in spite of significantly increased resources. There are pockets of excellence and dramatic improvement, but across the system improvement progress is glacial.
The use of data to inform improvement. With the development of national testing in Australia, and elsewhere, there is now systemic learning data that stimulates and informs conversations and debate. Like it or not, these data are here to stay, and they continue to inform the debate about school improvement.
The organisational improvement theory, derived primarily from the work of Dr. W Edwards Deming, leads directly to each of these observations. They have been part of our conversations with friends, clients and colleagues for over a decade. We are encouraged that the significance of these issues and opportunities is now recognised.
What is yet to be talked about
Improvement theory also points to other key opportunities that are not yet common in dialogue about school improvement.
Student contribution to school improvement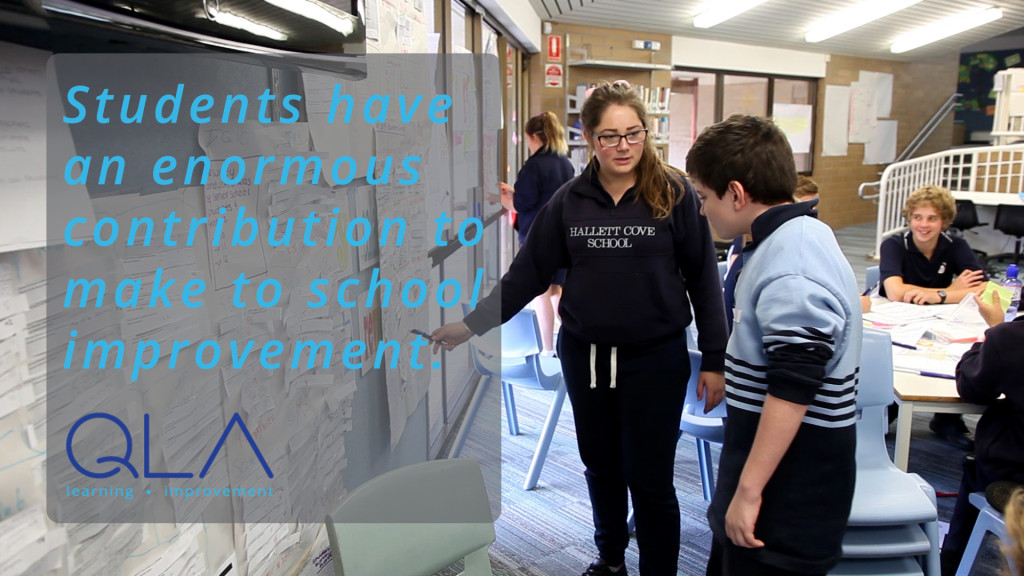 It is only students who truly know what helps and hinders their learning.
Unless their insight is accessed, acknowledged and acted upon, attempts to improve learning are likely to be misguided. Furthermore, if all students are to benefit, this action needs to be taken regularly at the local level, in each and every classroom. Simple tools, such as the Parking Lot and Force-field Analysis, provide mechanisms that enable this from pre-school to senior high school levels.
Students can contribute significantly to improving the operation of the school.
Some schools emphasise 'student voice' through mechanisms such as Student Representative Councils and Student Leaders. These process, while important, are in no way sufficient. A much greater opportunity lies in having students skilled and experienced in leading and participating in improvement project teams. These teams can apply the Plan-Do-Study-Act learning cycle to directly address opportunities to improve the school. Not only does this approach build the capability of students to personally contribute to improvement (a capability that can be of great benefit to them in their future), it also builds student ownership of the school and classroom while relieving the burden on school leaders, administrators and teachers.
Too much what, not enough how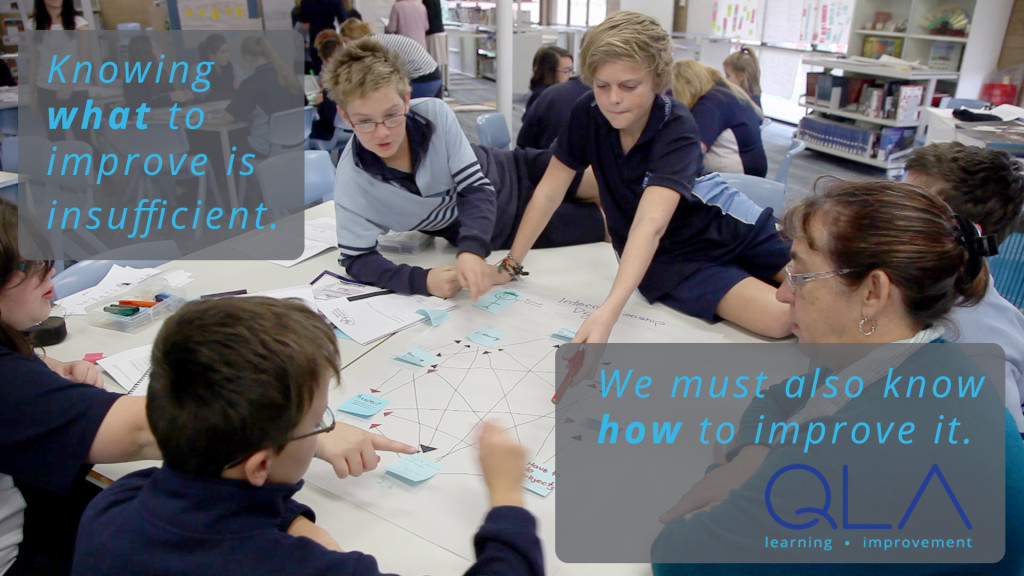 There is far too much discussion of what excellence in schools looks like, at the expense of how schools might achieve it.
Knowing what to improve is not sufficient. We must also know how to improve it. Copying others' examples of good practice rarely delivers sustainable improvement. Schools can learn from others' good practice, but each school must develop and test its own theory for improvement. The Plan-Do-Study-Act improvement cycle and the associated Quality Learning tools provide the 'how to' for developing and testing a theory for improvement.
These two observations, which remain to be discovered by leaders of the school improvement movement, hold the most significant promise for delivering demonstrable and continual school improvement.
Note: Our thanks to Hallett Cove R-12 School, South Australia, for the images, which were taken during QLA facilitated Student Improvement Team workshops in 2014.
Discussion
We would love to hear your views on this topic. What do you see missing from the dialogue about school improvement?







by