Improve performance
students, schools and school systems
Welcome to Quality Learning Australasia
Like you, we are passionate about improvement and we are here to help support your efforts to continually improve.
We provide professional learning, tailored support and practical resources.
We use improvement concepts, methods and tools proven over many decades in industry, government, non-profits and education.
We help organisations to build their capacity to apply improvement thinking, and practical, 'how to' tools and strategies.
Collaboration is key to the approach, as stakeholders work together to improve.
Quality learning's 'how to' strategies and tools significantly change the way we lead, learn and work together.
In education the focus is on improving learning.
Student's are equipped to take responsibility for their learning - to have voice and agency in their learning, classroom and the quality of school life. They understand what they are learning, why and how. They monitor their learning progress so they can articulate their success and set meaningful goals. They know what they need to do next.
"The ability to perform quality improvement miracles in every learning system has always been available to us; it is the power within.
The processes and concepts have been developed and tested in business and education for decades. All we need to do is start.
David Langford, Langford International Inc.
Learn more about Quality Learning.
Latest news
Continually improving - despite COVID-19!
QLA has continued to enjoy working with clients and friends during these challenging times.
With the help of powerful 'virtual meeting and other collaborative technologies' (our thanks to Zoom web conferencing (https://zoom.us) and Mural visual collaboration software (https://www.mural.co)), applying improvement principles and tools can overcome the challenges of distance and separation, bringing teams together to do important improvement work.
Sekolah Bina Cita Utama School: creating a sustainable development curriculum
Students, teachers and community members of the Sekolah Bina Cita Utama School in Indonesia have been working together using the quality learning approach to develop a Sustainable Development Curriculum.
"We started by Brainstorming onto sticky notes and using an Affinity Diagram to help answer two questions: 'Why do we need an environmental curriculum?' and 'What should be in the curriculum?'
Once we had identified the areas to be taught, students determined what to teach at each year level. Every year level prioritised the topic list using the NGT tool.
We are now looking at classroom processes to make sure that the methodologies will enhance teaching and learning. Students are really excited to be included in the process.
We have also developed an Operational Definition of 'student centred learning' to make sure we were all on the same page. We used a Bone Diagram to look at what is happening now, what we want the future to look like, and identified the blockers and drivers to achieving this. This was really helpful, and the students loved it! Students from years 3 to 12 worked on the Bone Diagram together. The big kids helped the little ones and really made sure they had their say.
We then used Brainstorming and an Affinity Diagram to identify what was needed to implement the curriculum. This has given us the basis for the professional development we are doing in January. We are also in the middle of doing a Quallity Learning Improvement Self-assessment to also inform our learning. Staff are really enthusiastic about being involved and having a say.
Teachers have been trained in our start of year 'Learning to Learn' program. Each homeroom teacher works with their students to define the school values, determine 'what is a good classroom?', 'what is quality work?', 'what is a good student?', 'what is a good teacher?' and agree a class mission and vision.
We are so excited about what we are doing. I can't thank QLA enough for all your help over the years. It all just works so well!"
Barbara Kerr, whose role is Enivironmental Curriculum Development and Teacher Capacity Building with the Sekolah Bina Cita Utama School, has been leading these improvement efforts. Barb has been a passionate practitioner of Quallity Learning since 1999, working in Australia, Africa and now Indonesia. She is also working with the Australian Volunteers Program (AVP). This Department of Foreign Affairs and Trade program matches a broad range of skilled Australians with partner organistions in the Indo-Pacific region, to help individuals achieve their development goals.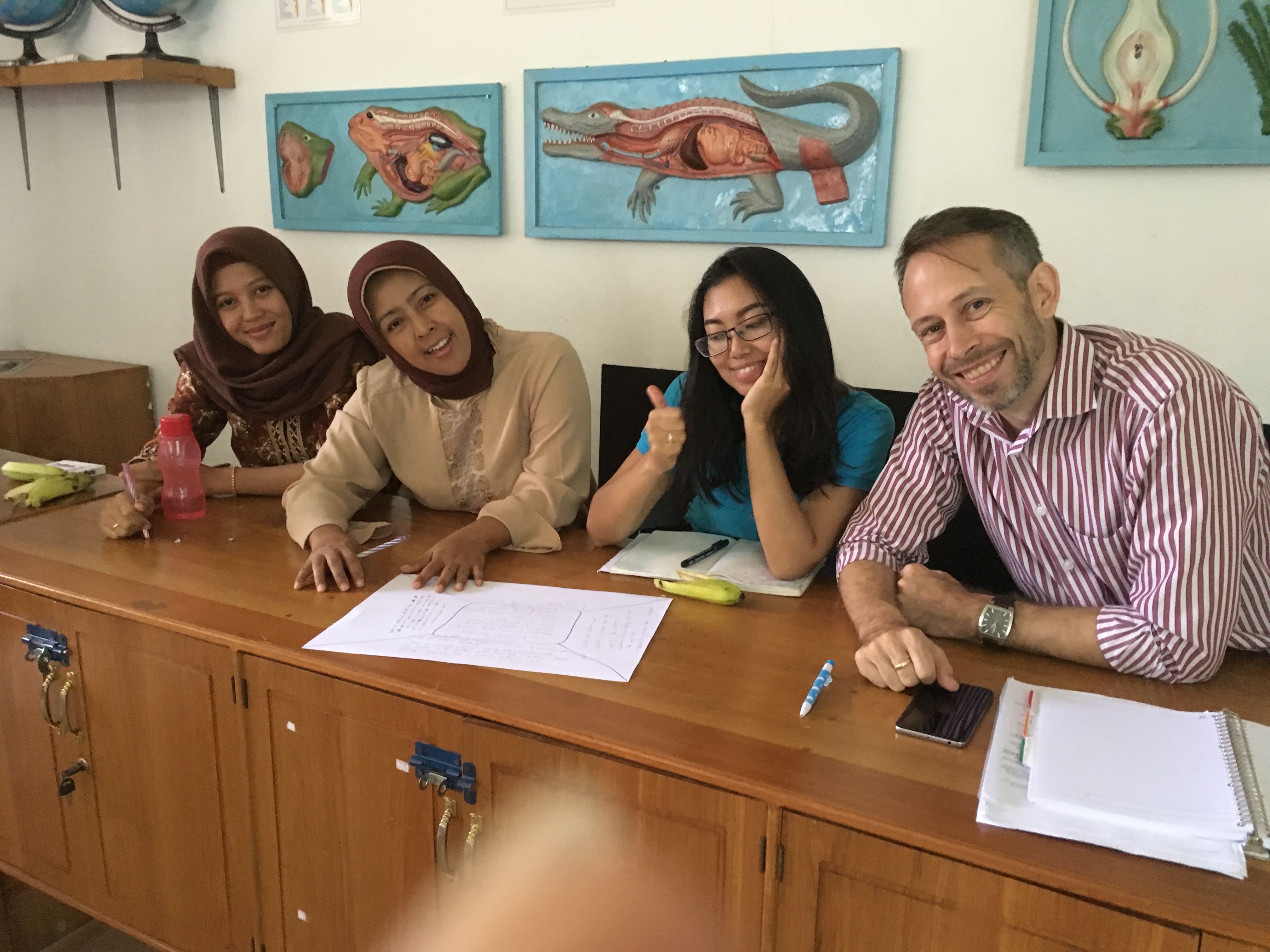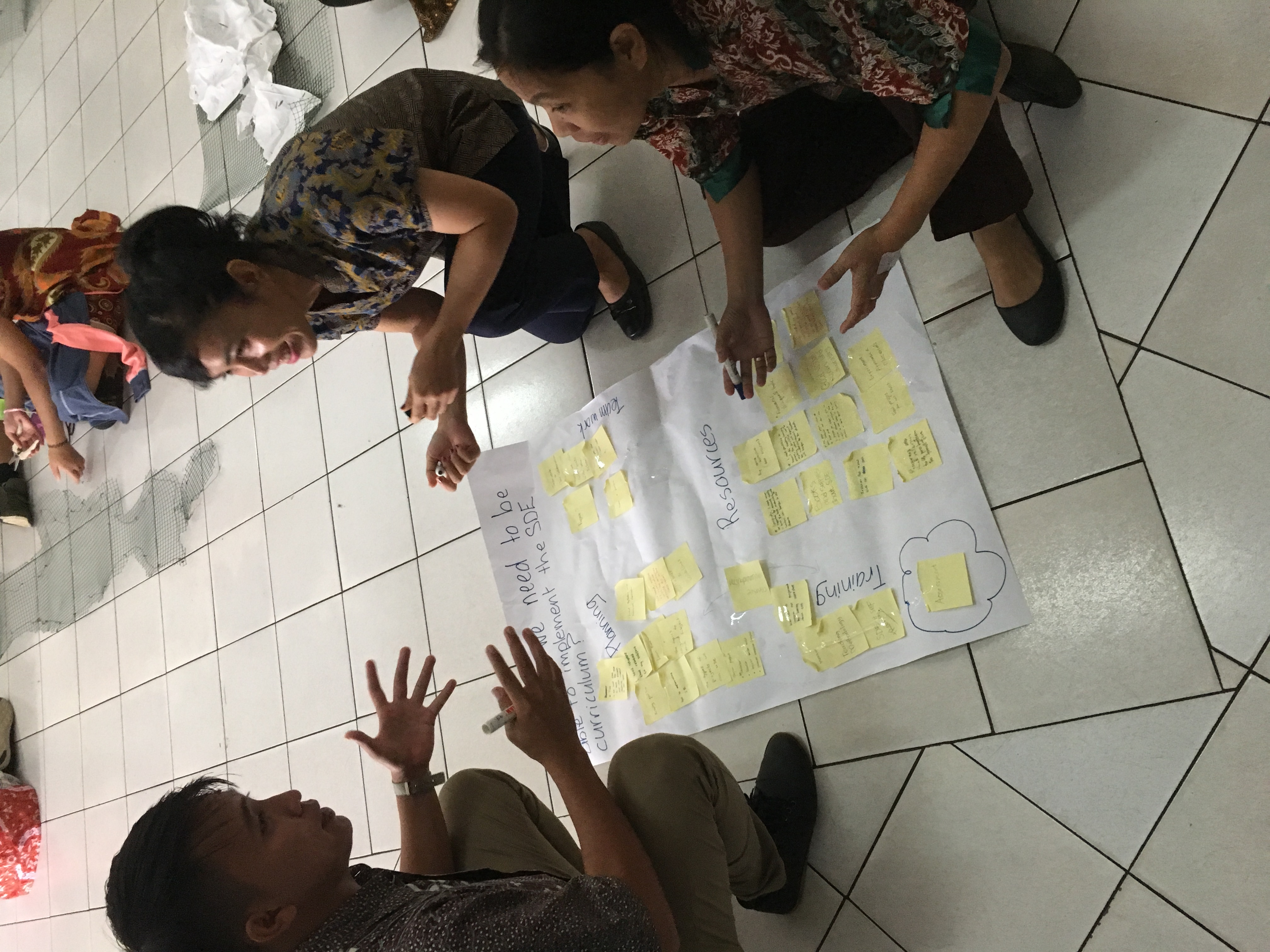 Noble Park English Language School: engaging stakeholders in agreeing a school direction
Noble Park English Language School is a Prep to 10, multi-campus school located in the south east of Melbourne. The school provides an intensive English language program for over 600 newly arrived migrants, refugees and international students from non-English speaking backgrounds.
Many of the students have been displaced by war, economic hardship or political persecution. The school is committed to, and highly effective, in helping students to regain trust in people and systems, and to confidently face the challenges of settling into a new life in Australia.
In 2018 the school commenced a collaborative process of engaging its key stakeholders in developing a new school strategic plan. QLA supported the school through this exciting process which forms part of a four-yearly school review and planning cycle.
All parents, students and staff were asked to provide feedback on the current strengths of the school and to share their ideas to improve learning and school life. They were also asked to provide input to help create a shared school direction – comprising a school vision, purpose (mission), values and graduate profile.
Because many of the parents and students are not fluent in English, translators were critical to the process. Many sticky notes were used so everyone could have equal voice and opportunity to contribute their ideas.
Teams comprising parents, students and staff (and translators) themed all of the input obtained (this is why sticky notes are very useful!). They then used these themes to draft the school vision, purpose, values and graduate profile. The information gathered as to school strengths and opportunities were used to shape the priorities in the strategic plan.
The school values were made explicit by identifying specific behaviours everyone agrees to aspire to.
The graduate profile describes the skills, capacities and behaviours the school community believes are important for students to develop while at the school, for their future success (these of course, compliment and build upon the State curriculum).
In finalising the strategic direction, stakeholders were asked to indicate their commitment to the draft strategic elements (using a Consensogram tool). This showed overwhelming support, ownership and commitment to what the teams had developed. Only a few minor tweaks were needed before a resident school artist was tasked with 'making it all look beautiful'!

Final touches were made to the strategic plan on completion of the school review process in 2019. (During which the school received praise for its rigorous, comprehensive stakeholder engagement throughout the planning process!)
Posters of the schools shared direction (see images below) now hang in every classroom and office in the school, serving as a constant reference to guide decision making and behaviour.