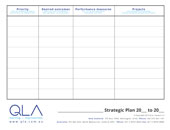 Strategic Plan Poster
This poster can be used to assist you in development of your strategic plan.
Use it to identify and document:
Priorities: What are you seeking to improve over the life of the plan?
Desired Outcomes: What is your vision of excellence? What, specifically, will be achieved?
Performance Measures: How will performance improvements be measured and tracked over time?
Projects: What projects will be undertaken to ensure the desired outcomes are achieved?
From the strategic plan, you can then develop your annual implementation plan.
You may wish to follow the process outlined in our Planning fo School Improvement Guide.




All prices are shown in Australian Dollars including GST.
Most resources on this website are free. For some resources, such as this, we require you to register so that we may keep you informed of Quality Learning news and new resources. Should you choose, you will be able to opt out of our communications at any time.