The Capacity Matrix
The Capacity Matrix was developed by Dr Myron Tribus and David Langford.
It is a powerful learning tool that enables learners to take responsibility for their learning by making their learning explicit and visible.
Learning outcomes and curriculum requirements are broken down into specific and manageable elements.
The matrix also makes explicit the breadth and depth of learning.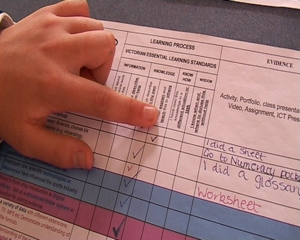 Learners use the matrix to plan their learning and track their progress over time, typically through four levels of learning. The levels of learning, based on Bloom's Taxonomy, are:
Information
Knowledge
Know-how
Wisdom
The final column in a Capacity Matrix is used by the learner to reference the evidence they have to demonstrate, document and defend their learning.
This evidence may be captured in a Learning Portfolio as samples and other learning artefacts. The learner uses the matrix and portfolio in regular conference with their teacher to discuss progress.
Learn more about the Capacity Matrix: