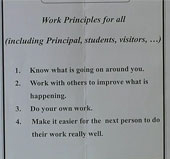 Job Description for everyone at Riverside Primary School
Ivan Webb principal of Riverside Primary School describes the job description that applies to everyone at the school.
Know what is going on around you.
Work with others to improve what is happening.
Do your own job.
Make it easier for the next person to do their work really well.




All prices are shown in Australian Dollars including GST.
Most resources on this website are free. For some resources, such as this, we require you to register so that we may keep you informed of Quality Learning news and new resources. Should you choose, you will be able to opt out of our communications at any time.