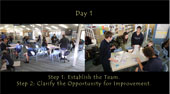 CSV051 Student School Improvement Teams at Hallett Cove R-12 School
The Student Leadership Team at Hallett Cove R-12 School in South Australia contribute to school improvement. Teams are trained in the Plan-Do-Study-Act cycle and the Quality Learning tools, and apply this learning to issues directly affecting them and their learning.
This video was filmed during the training and improvement planning of ten multi-aged teams from across the school.
A blog post – 2 Ways Students Can Lead School Improvement – also makes reference to this video.




All prices are shown in Australian Dollars including GST.
Most resources on this website are free. For some resources, such as this, we require you to register so that we may keep you informed of Quality Learning news and new resources. Should you choose, you will be able to opt out of our communications at any time.