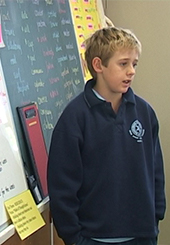 CSV017 Learning How to Learn in Primary School
This case study describes the Warrnambool East Primary School's Learning How to Learn program.
This Victorian regional school first became acquainted with Quality Learning through the Quality in Schools initiative in 1999. The school's Learning How to Learn program was developed to bring the Quality Learning philosophy to life across all classrooms.
This case study shows how the first two weeks of each school year are devoted to working with students to establish a productive learning environment. Class purpose, vision, codes of cooperation and classroom processes are established during this period. Emphasis is also placed on skills that enable the students to become productive members of their class community and accept responsibility for their own learning.




All prices are shown in Australian Dollars including GST.
Most resources on this website are free. For some resources, such as this, we require you to register so that we may keep you informed of Quality Learning news and new resources. Should you choose, you will be able to opt out of our communications at any time.