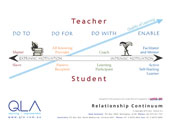 Student - Teacher Relationship Continuum Poster
The Student - Teacher Relationship Continuum describes the nature of the relationship that might exist in a classroom between teacher and learner.
The more we enable the learner to take responsibility for their learning the more motivation engagement and learning improve.
Originally created by David Langford and his students, this poster helps to explain our objective with student learning. It provides a reminder to continually improve our processes with a focus on the enabling end of the continuum!




All prices are shown in Australian Dollars including GST.
Most resources on this website are free. For some resources, such as this, we require you to register so that we may keep you informed of Quality Learning news and new resources. Should you choose, you will be able to opt out of our communications at any time.