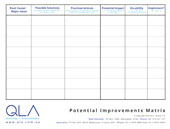 Potential Improvements Matrix Template
A Potential Improvements Matrix is a tool for clarifying specific improvement ideas to address root causes of variation and poor performance. Considering a range of possible solutions can prevent 'diving to a solution', without considering alternatives.
This template guides you through identifying solutions clarifying actions and prioritising them for implementation by considering:
Root cause or Major Issue
Possible Solutions: Ideas to address the root causes or issues
Practical Actions: Details of steps to implementation, where required
Potential Impact: Rating on a scale from 0 = no impact to 10 = very significant positive impact
Do-ability: Rating on a scale from 0 = seemingly impossible to 10 = very easy
Implement: Yes, No or Later




All prices are shown in Australian Dollars including GST.
Most resources on this website are free. For some resources, such as this, we require you to register so that we may keep you informed of Quality Learning news and new resources. Should you choose, you will be able to opt out of our communications at any time.