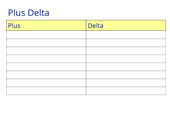 Plus Delta Template (MS Word)
The plus delta tool is a quick and inclusive way to gather feedback about what is going well and what could be improved.
The topic for investigation is agreed among the group.
Each individual identifies things that are going well. These are listed under the heading of "Plus". Identifying the positives promotes recognition and celebration of the good things, including identification of things to be sustained through any proposed changes.
individulas also identify things that could be improved. These are listed under the heading of "Delta" or "Δ", the Greek symbol for change.
A plus delta can be prepared with each individual using a simple T chart with two columns: plus and delta. It can also be prepared using sticky notes followed by affinity diagrams, one for each side, to sort ideas into themes.
This word template enables you to capture and save your findings.




All prices are shown in Australian Dollars including GST.
Most resources on this website are free. For some resources, such as this, we require you to register so that we may keep you informed of Quality Learning news and new resources. Should you choose, you will be able to opt out of our communications at any time.