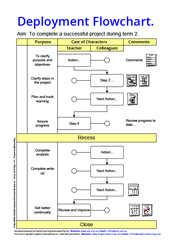 Deployment Flowchart Template (MS Visio)
The Deployment Flowchart (also known as a Process Map) is an improvement tool developed by Dr Myron Tribus. It documents the sequence of steps in a process along with who is responsible for taking action at each step. Flowcharts can be used to agree processes they provide a basis for ongoing discussion and improvement. They can be used to communicate train induct and coach people too. This template in Microsoft Visio format can be used to document a Deployment Flowchart. (NOTE: you will need Microsoft Visio to use this template).




All prices are shown in Australian Dollars including GST.
Most resources on this website are free. For some resources, such as this, we require you to register so that we may keep you informed of Quality Learning news and new resources. Should you choose, you will be able to opt out of our communications at any time.