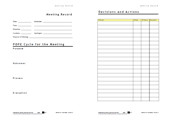 Meeting (Decision and Action) Record
So much of our precious time is wasted in meetings! The Decision and Action (Meeting) Record template saves time. The record is used to agree the purpose of the meeting desired outcomes the process or agenda and criteria for evaluating the success of the meeting (using the POPE tool). As the meeting progresses details of the actions and agreements are recorded in a standard format and distributed to participants before they leave the meeting. This saves time writing waiting for and reading meeting minutes. This template in Microsoft Word format can be used to capture the actions and agreements from meetings. Use it either for hand written notes or or electronic capture during the meeting.




All prices are shown in Australian Dollars including GST.
Most resources on this website are free. For some resources, such as this, we require you to register so that we may keep you informed of Quality Learning news and new resources. Should you choose, you will be able to opt out of our communications at any time.