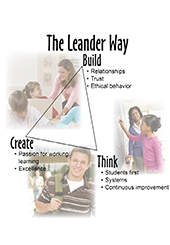 CSV041 The Leander Way
Case Study Video 041. The remarkable story of the Leander Independent School District.
This is the story of the Leander Independent School District.
In this case study, district leaders share the story of transformation from a small rural district to a rapidly growing and continually improving district of over 32,000 students across 37 campuses.
They share how:
the Guiding Documents shape everything they do: Ten Ethical Principles, Graduate Profile and the Learning Model
they strive to build a district-wide culture of trust and fear-free relationships
their thinking puts students first and recognises the importance of systems in the pursuit of continuous improvement
a passion for working, learning and excellence has been created across the district.
This Case Study is supported by additional stories, extended interviews and discussion of several of the challenges. These are available on our YouTube site.
Additional Stories:
Extended Interviews regarding Application of the Philosophy:
Discussion about dealing with challenges along the way:
Creating the future:




All prices are shown in Australian Dollars including GST.
Most resources on this website are free. For some resources, such as this, we require you to register so that we may keep you informed of Quality Learning news and new resources. Should you choose, you will be able to opt out of our communications at any time.