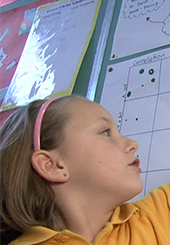 CSV035 Starting out with Quality Learning
Case Study Video 035. Progress made during the first ten weeks of adopting a Quality Learning approach.
Theodore Primary School first heard about the Quality Learning approach during professional development run by QLA in Canberra in August 2008.
In April 2009, ten staff attended the Quality Learning Seminar conducted by David Langford.
This video illustrates the rapid improvements made by the staff and students at Theodore in the first ten weeks following the Quality Learning Seminar.
Students show how they are taking greater responsibility for their learning as they actively engage in planning their learning, set priorities and monitor progress. Teachers and leaders share how they have made such a dramatic change in such a short time by being clear about their objectives, supporting one another, sharing successes and learning from mistakes.




All prices are shown in Australian Dollars including GST.
Most resources on this website are free. For some resources, such as this, we require you to register so that we may keep you informed of Quality Learning news and new resources. Should you choose, you will be able to opt out of our communications at any time.