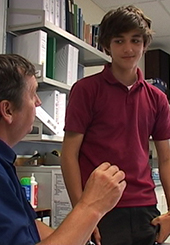 CSV034 Student directed learning in year 10
Case Study Video 034. Year 10 students take responsibility for their learning.
Richard Maynard is a teacher at Seaford 6-12 School in South Australia. He has worked with his year ten English class since they were in year nine. Over the two year period, Richard has progressively skilled the students in taking greater responsibility for their learning.
In this case study, Richard and one of his students, Zac, describe the approach and methods used by the students to:
clearly define the curriculum outcomes using State curriculum standards documents
set individual learning goals
establish and refine quality criteria
design individual learning experiences
self-assess their learning
self-assess the quality of their own learning tasks
monitor and record progress.




All prices are shown in Australian Dollars including GST.
Most resources on this website are free. For some resources, such as this, we require you to register so that we may keep you informed of Quality Learning news and new resources. Should you choose, you will be able to opt out of our communications at any time.