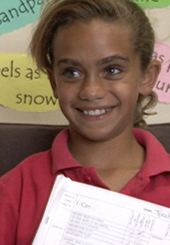 CSV031 Engaging reluctant learners
Case Study Video 031. Mungindi Central School is an isolated rural school that used the quality learning approach to engage reluctant learners.
Mungindi Central School is an isolated P-12 rural school located on the NSW / Queensland border.
The school suffered years of economic hardship, drought, declining enrolments and community dissatisfaction with the school. The principal recognised the need for re-visioning the school and creating a positive future for the school, its students and community.
This case study describes how the community became actively involved in the working of the school.
It shows how a particularly challenging year 2/3/4 class transformed from a disengaged, rebellious and disruptive collection of individuals to an engaged, supportive and intrinsically motivated team of learners.
The case study also highlights how the school supports all students to maximise their participation and learning.




All prices are shown in Australian Dollars including GST.
Most resources on this website are free. For some resources, such as this, we require you to register so that we may keep you informed of Quality Learning news and new resources. Should you choose, you will be able to opt out of our communications at any time.