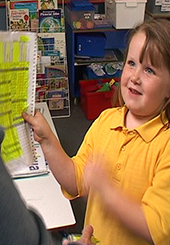 CSV021 Capacity Matrices in the Early Years
Case Study Video 021. Lindy Podzwueit and her colleagues share the application and success using Capacity Matrices in the early years
Lindy Podzuweit has been a successful classroom teacher for nearly 30 years. She was first introduced to the use of Capacity Matrices in 2001 as a means to increase student responsibility for learning and improve student learning outcomes.
In adapting the Capacity Matrices to her year one classroom, Lindy observed outstanding improvements in student success and motivation towards learning. Matrices were developed for handwriting, spelling and times tables.
In this Case Study, Lindy and her colleagues share the application and success using Capacity Matrices in the early years.




All prices are shown in Australian Dollars including GST.
Most resources on this website are free. For some resources, such as this, we require you to register so that we may keep you informed of Quality Learning news and new resources. Should you choose, you will be able to opt out of our communications at any time.