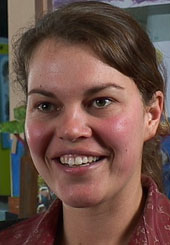 CSV011a Quality Learning in a multi-age classroom
Case Study Video 011a. Quality learning in a single teacher multi-age classroom in a rural school.
Caragabal Public School is a one-teacher primary school of 15 students, situated in the central west of NSW.
The first part of this case study describes how Jodie Russell, the teaching principal, first introduced the Quality Learning principles and practices to her students. Jodie began with a discussion with the students about quality work. This led to the establishment of explicit quality criteria for use by students and an immediate improvement in work standards. Quality improvement tools are now used in all classes and across all age groups to great effect. Students keep data on their progress. We see how spelling and times tables data are kept by the students and used as the basis for their learning plans.




All prices are shown in Australian Dollars including GST.
Most resources on this website are free. For some resources, such as this, we require you to register so that we may keep you informed of Quality Learning news and new resources. Should you choose, you will be able to opt out of our communications at any time.