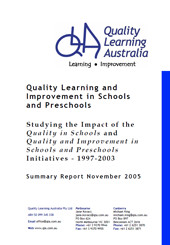 Quality Learning and Improvement in Schools and Preschools
This is the summary report of a study released in 2005 that examined the impact of the quality improvement approach on the schools that partcipated in the Quality in Schools and Quality and Improvement in Schools and Preschools initiatives in Victoria and South Australia. The research was comissioned by QLA. to gauge the impact of schools who participated in these two quality improvement initiatives.




All prices are shown in Australian Dollars including GST.
Most resources on this website are free. For some resources, such as this, we require you to register so that we may keep you informed of Quality Learning news and new resources. Should you choose, you will be able to opt out of our communications at any time.