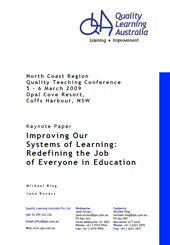 Improving Our Systems of Learning
Our education system continues to be subjected to wave after wave of reform all aimed we are told at improvement. Researchers policy makers and practitioners look for ways to improve performance but rarely look beyond education for theory or practice. Over the past century or more a great deal has been learned about improving quality in organisations. One of the key thought-leaders was Dr. W. Edwards Deming. In the 20 years since his death a relatively small number of educators have truly comprehended Dr. Deming's System of Profound Knowledge, accepted the necessary brain transplant and redefined their jobs to lead improvement using his philosophy and methods. This paper was prepared and presented by QLA for the NSW Department of Education North Coast Region Annual Quality Teacher Conference in Coffs Harbour on 5 March 2009. The keynote illustrates that quality practices guided by theory do improve student learning in the classroom and improve the quality of school life for all in the school community: frequently with dramatic positive results.




All prices are shown in Australian Dollars including GST.
Most resources on this website are free. For some resources, such as this, we require you to register so that we may keep you informed of Quality Learning news and new resources. Should you choose, you will be able to opt out of our communications at any time.