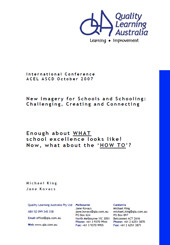 Enough about WHAT school excellence looks like! Now what about the HOW TO?
The paper provides a brief summary of QLAs experience supporting schools with their improvement efforts. The Quality Learning philosophy is introduced briefly and how to examples of school implementation are provided. This paper was prepared by QLA for the ACEL ASCD International Conference in Sydney in October 2007 - New Imagery for Schools and Schooling: Challenging Creating and Connecting.




All prices are shown in Australian Dollars including GST.
Most resources on this website are free. For some resources, such as this, we require you to register so that we may keep you informed of Quality Learning news and new resources. Should you choose, you will be able to opt out of our communications at any time.