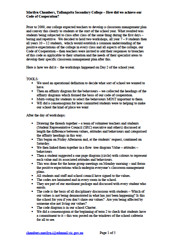 Values and Behaviours Development Process:Tallangatta Secondary College
A paper by Marilyn Chambers of Tallangatta Secondary College (with photos) that describes the process by which their agreed values - the values wheel - were developed with students and staff.




All prices are shown in Australian Dollars including GST.
Related resources

Tallangatta Secondary College staff and students worked together in 2000 to develop an agreed code of cooperation which they documented as their Values Wheel.
Most resources on this website are free. For some resources, such as this, we require you to register so that we may keep you informed of Quality Learning news and new resources. Should you choose, you will be able to opt out of our communications at any time.