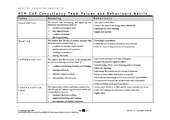 Values and Behaviours: Consultancy Team
QLA worked closely with the Country Areas Program team in NSW for several years. In 2003 the team defined their values such that the desired behaviours were explicit and defined. This example shares their agreements.




All prices are shown in Australian Dollars including GST.
Related resources

A example of a vales and behaviours self-assessment from the Country Areas Program team in NSW used for self and peer assessment.

A Team System Map from the NSW Country Areas Program consultancy team.
Most resources on this website are free. For some resources, such as this, we require you to register so that we may keep you informed of Quality Learning news and new resources. Should you choose, you will be able to opt out of our communications at any time.