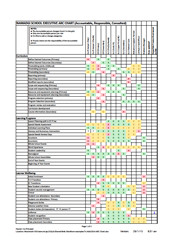 Process Accountability Matrix: Namadgi School
A Process Accountability Matrix makes clear who owns key processes who is responsible for enacting them and who needs to be kept informed along the way. The matrix is also known as an Accountability Responsibility Communicated (ARC) Chart. This example is from Namadgi School in the ACT.




All prices are shown in Australian Dollars including GST.
Related resources

Eliminate wasted time and effort reinventing lost policies processes and important documents. Make these documents accessible to all who need them by establishing a solid foundation to capture organisational knowledge and continually improve. This guide explains with examples how to ensure the most up-to-date version of all critical documents are available to those who need them.

Have you agreed and documented the processes critical to the effective and efficient operation of your school and classroom? This guide introduces the powerful improvement concept of Process Thinking. It describes HOW TO create Flowcharts: visual methods that facilitates induction training and continual improvement. The guide also provides an inventory of approximately 200 school processes.
Most resources on this website are free. For some resources, such as this, we require you to register so that we may keep you informed of Quality Learning news and new resources. Should you choose, you will be able to opt out of our communications at any time.