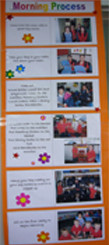 Flowchart: Morning Process (Year 1)
A Flowchart provides a pictorial representation of the sequence of steps in a process. This example of a Year 1 morning process shown pictorially is from Plenty Parklands Primary School Victoria.




All prices are shown in Australian Dollars including GST.
Related resources

Students teachers and the principal from Plenty Parklands Primary School explain how they save time and effort by agreeing and documenting classroom processes.
Most resources on this website are free. For some resources, such as this, we require you to register so that we may keep you informed of Quality Learning news and new resources. Should you choose, you will be able to opt out of our communications at any time.