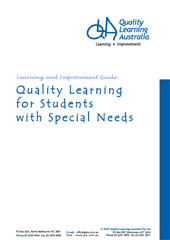 Quality Learning for Students with Special Needs Guide (pdf)
$10.00
This improvement guide describes how the Quality Learning approach and tools can be used to improve learning for students with special needs: one-on-one in groups and as a whole class. The guide explains with examples the use of the Parking Lot Capacity Matrix Code of Cooperation Structured Brainstorming and Flowcharts The guide was jointly written by QLA and Helena Hewish a School Services Officer at Seaford 6-12 School in Adelaide. Publisher: QLA pfd full colour 20 pages 297mm x 210 mm.




All prices are shown in Australian Dollars including GST.
Most resources on this website are free. For some resources, such as this, we require you to register so that we may keep you informed of Quality Learning news and new resources. Should you choose, you will be able to opt out of our communications at any time.