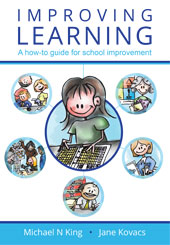 IMPROVING LEARNING: A how-to guide for school improvement
IMPROVING LEARNING has been written in response to repeated requests for a detailed explanation of the quality improvement philosophy applied to school education. It explains how to engage everyone in improvement – students, teachers, school leaders, system administrators, families and school community members. This book shows you how to get started and how to continue to improve learning, performance and the quality of school life.
IMPROVING LEARNING summarises a holistic and proven theory for improvement based on the philosophy of W. Edwards Deming and other key practitioners in industry, government and education. It draws heavily on the authors' experience of working with hundreds of schools, districts, education and other systems over three decades.
IMPROVING LEARNING offers new ways of thinking about school improvement. Simple and practical tools are explained, and the book includes links to templates, video clips, papers and other resources to support your improvement efforts.
Read more about this book, including client reviews.
Publisher: Quality Learning Australiasia
532 pages. Full colour. 254mm x 178mm (10" x 7")
NOTE: Digital copy can be purchased from Amazon and iBook; Hard Copy can be purchased from Amazon
Please note, the Kindle edition of this book is available for immediate delivery from Amazon.
Please note, the iBook edition of this book is available for immediate delivery from iBooks.




All prices are shown in Australian Dollars including GST.
Most resources on this website are free. For some resources, such as this, we require you to register so that we may keep you informed of Quality Learning news and new resources. Should you choose, you will be able to opt out of our communications at any time.