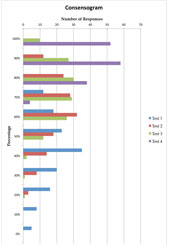 Consensogram Template (MS Excel)
A consensogram is a tool developed by David Langford as a means to quickly determine and display the degree of consensus on a topic, question, or proposal.
Each member of the group writes a number on a sticky note — usually a number between zero and ten, or a percentage from zero to one hundred — representing their response to a statement or question. No names or commentary are required, just the number representing one's perspective.
When the sticky notes are collected and laid out as a bar chart, the degree of consensus is clearly visible to all.
The consensogram can be used to determine what to do next.
Read more about the consensogram on our blog.
This MS Excel template enables you to create an electronic record of your consensogram.




All prices are shown in Australian Dollars including GST.
Most resources on this website are free. For some resources, such as this, we require you to register so that we may keep you informed of Quality Learning news and new resources. Should you choose, you will be able to opt out of our communications at any time.